Quebec says existing health-care workers won't have to get a COVID-19 vaccine to keep their jobs, marking a reversal in the province's position.
Meanwhile, Ontario Premier Doug Ford says it will be up to individual health workers in his province whether they want to get vaccinated or not.
In a press conference in Quebec City on Nov. 3, Health Minister Christian Dubé said the suspension of unvaccinated workers as of Nov. 15 will have a "devastating effect" on the province's health system. He said the province will face service reductions or reorganizations if the government proceeds with its planned deadline for mandatory vaccination.
"To deprive ourselves of 8,000 people [in health staff ranks] will have devastating consequences for our network," Dubé said.
Instead of the original plan, vaccination will no longer be mandatory for current employees, he said, but they have to be tested for COVID-19 at least three times a week. As for new hires, they will be required to be vaccinated.
The government originally set an Oct. 15 deadline for health care workers to be vaccinated but extended it by a month amid urgent staffing shortages.
Dubé says 97 percent of health-care workers are vaccinated against COVID-19, but there are still about 14,000 who have not received a single dose, including 5,000 who have direct contact with patients.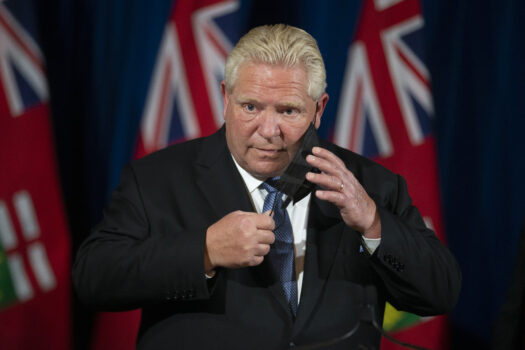 Also on Nov. 3, Ontario Premier Doug Ford said in light of the challenges other provinces have had in implementing vaccine mandates for health-care workers, he won't be forcing hospital workers to get COVID-19 vaccines.
"British Columbia has had to cancel surgeries and diagnostic tests because of the sudden termination of more than 3,000 health care workers after implementing a vaccine mandate," Ford said in a Nov. 3 statement.RELATED
"Quebec has now abandoned theirs altogether because of the significant risk an abrupt loss of thousands of health care workers poses to delivering critical services."
Ford said with the high vaccination rates in hospitals and "robust infection prevention and control" measures, the hospitals "remain safe for patients and staff members who care for them."
"I am not prepared to jeopardize the delivery of care to millions of Ontarians," Ford said.
"Having looked at the evidence, our government has decided to maintain its flexible approach by leaving human resourcing decisions up to individual hospitals."